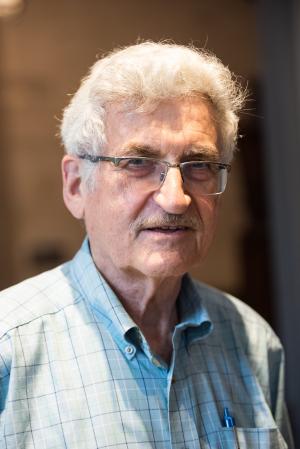 Professor Emeritus of African History, African Studies, and the College
Prof. Austen has retired and no longer directs BA theses or accepts new graduate students.
Harvard University, PhD '66
Ralph A. Austen's current research (and limited teaching) focuses on the political economy and cultural dimensions of European overseas expansion (including autobiographical writings by "colonial subjects") and African literature.
His main current project is a book tentatively entitled "Postcoloniali­ty in Historical Perspective: Europe, Overseas Empire, and Globalization." It focuses upon tropical Afric­a, South Asia, and the British and French Caribbean as regions that played a key role in Europe's rise to world economic dominance in the early modern seventeenth and eighteenth centuries, became formal colonies in the modern nineteenth and early twentieth centuries when their international econom­ic position was already marginal, and are struggling to find an economic role, political stability, and cultural identity in the postmodern late twentieth and early twenty-first centuries. The project will also consider the role of modern colonies and postcolonies in European moral economy and cultural identity discourses.
He is  also continuing to work on trans-Saharan history, as reflected in publications subsequent to his 2010–12 book on this subject, recent teaching in Morocco, and participation in the Saharan projects of the Block Museum of Art (Northwestern University) and Paul Sereno of the University of Chicago. These efforts may produce a major revision of the book.
Recent Research / Recent Publications
Books
Northwest Tanzania under German and British Rule: Colonial Policy and Tribal Politics, 1889–1939. New Haven: Yale University Press, 1968.

Modern Imperialism: Western Overseas Expansion and its Aftermath, 1776–1965. Lexington: D. C. Heath, 1969 (a reader).

African Economic History: Internal Development and Exter­nal Dependency. London: James Currey, 1987.

The Elusive Epic: The Nar­rative of Jeki la Njambe in the Historical Culture of the Cameroon Coast. Atlanta: African Studies Association Press, 1996 (a monograph and translated texts).

(with Jonathan Derrick) Middlemen of the Cameroon Rivers: The Duala and Their Hinterland, c. 1600–c. 1960. Cambridge: Cambridge University Press, 1999.

In Search of Sunjata: The Mande Epic as History, Literatur­e, and Performance. Bloomington: Indiana Univer­sity Press, 1999 (edited conference papers).

Trans-Saharan Africa in World History. New York: Oxford University Press, 2010.

Die Sahara - Tausend Jahre Austausch von Ideen und Ware. Berlin-Wilmersdorf : Verlag Klaus Wagenbach, 2012 (a somewhat revised German edition).

(edited with Mahir Saul) Viewing African Cinema in the Twenty-First Century: Art Films and the Nollywood Video Revolution. Athens: Ohio University Press, 2010.
Articles and Chapters
"The Moral Economy of Witchcraft: An Essay in Comparative History." In Modernity and its Malcontents, edited by J. and J. L. Comaroff. Chicago: University of Chicago, 1993.

"The Slave Trade as History and Memory: Confrontations of Slaving Voyage Documents and Communal Traditions." William and Mary Quarterly (January 2001).

"Interpreters Self-Interpreted: The Autobiographies of Two Colonial Clerks." In Intermediaries, Interpreters, and Clerks:  African Employees in the Making of Colonial Africa, edited by Benjamin Lawrance, Emily Lynn Osborn, and Richard Roberts, 159–79. Madison: University of Wisconsin Press, 2006.

"Africa in the Global Decolonization Process: The Road to Postcoloniality." In "Trustee for the Human Community": Ralph J. Bunche and the Decolonization of Africa, edited by Robert Hill and Edmond J. Keller, 230–57. Athens: Ohio University Press, 2010.

(with James  Vaughn) "The Territorialization of Empire: Social Imperialism and Britain's Moves into India and Tropical Africa." In Africa, Empire and Globalization Essays in Honor of A. G. Hopkins, edited by Toyin Falola and Emily Brownell, 193–212. Durham, NC: Carolina University Press, 2011.

"Struggling with the African Bildungsroman," Research in African Literatures 46, no. 3 (Aut. 2015): 214–31.

"Indigenous Agents of Colonial Rule in Africa and India: Defining the Colonial State through Its Secondary Bureaucracy," in Cooperation and Empire: Local Realities of Global Processes, edited by Tanja Bührer, Flavio Eichmann, Stig Förster, and Benedikt Stuchtey, 325–62. Oxford: Berghahn, 2017.

"Monsters of Proto-Colonial Economic Enterprise: East India Companies and Slave Plantations," Critical Historical Studies 4, no. 2 (Fall 2017): 139–77.