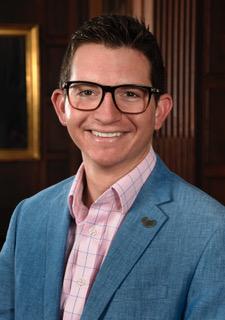 Earl S. Johnson Instructor in the Master of Arts Program in the Social Sciences and the College
PhD'21 (US History), University of Chicago
RESEARCH INTERESTS
Nineteenth- and twentieth-century United States; history of the American South; cultural, social, and political history; race and racism; gender and sexuality; violence; science, medicine, and the body; mass and visual culture; collective memory; public history
DISSERTATION
Southern Sublime: Legacies of Civil War Violence in the New South
BIOGRAPHY
Alex is a cultural historian of the nineteenth- and twentieth-century American South. He is interested in how the presumed oddities of Southern life make legible currents of the U.S. experience that ran subterranean through other regions. In this light, the regional provides a framework to realize a fuller understanding of U.S. history, its myths, and its contradictions.
He is working on his manuscript titled Shattered: The South after the Civil War, which examines how the war's destruction forced white Southerners to create new ways of making meaning from the material world through everyday spectacles that both processed and restaged its violence long after Confederate surrender.
More broadly, Alex's diverse research interests cohere around an interdisciplinary approach that reframes historical oddities as meaningful evidence of how Americans made meaning of the political, economic, and social worlds they inhabited through their lived experience.
Alex earned his PhD from the University of Chicago in 2021, and his work has appeared in Southern Cultures.
PUBLICATIONS
"The Kinetic South." Southern Cultures 27, no. 2 (2021): 62-83.
[Book Review] Bone Rooms: From Scientific Racism to Human Prehistory in Museums by Samuel J. Redman. American Nineteenth Century History 18, no. 2 (2017): 196–98.