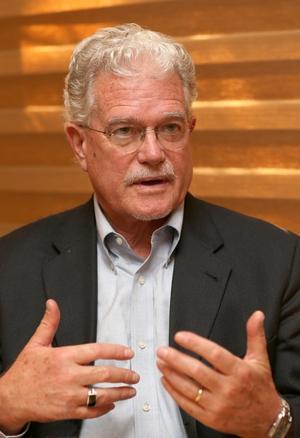 Gustavus F. and Ann M. Swift Distinguished Service Professor Emeritus of History and the College
Prof. Cumings has retired and no longer directs BA theses or accepts new graduate students.
Yale University, PhD '75
BIOGRAPHY
Bruce Cumings's research and teaching focus on modern Korean history, twentieth-century international history, US–East Asian relations, East Asian political economy, and American foreign relations. His first book, The Origins of the Korean War, won the John King Fairbank Book Award of the American Historical Association, and the second volume of this study won the Quincy Wright Book Award of the International Studies Association. He is the editor of the modern volume of the Cambridge History of Korea (forthcoming), and is a frequent contributor to the London Review of Books, the Nation, Current History, the Bulletin of the Atomic Scientists, and Le Monde Diplomatique. He was elected to the American Academy of Arts and Sciences in 1999 and is the recipient of fellowships from the Ford Foundation, NEH, the MacArthur Foundation, the Center for Advanced Study at Stanford, and the Abe Fellowship Program of the Social Science Research Council. He was also the principal historical consultant for the Thames Television/PBS 6-hour documentary, Korea: The Unknown War. In 2003 he won the University of Chicago's award for Excellence in Graduate Teaching, and in 2007 he won the Kim Dae Jung Prize for Scholarly Contributions to Democracy, Human Rights and Peace. He has just completed Dominion From Sea to Sea: Pacific Ascendancy and American Power, which will be published by Yale University Press. He is working on a synoptic single-volume study of the origins of the Korean War, and a book on the Northeast Asian political economy.
Recent Research / Recent Publications
Publications
The Origins of the Korean War, 2 vols. Princton, NJ: Princeton University Press, 1981, 1990.

War and Television. London and New York: Verso, 1993.

Korea's Place in the Sun: A Modern History. New York: Norton, 1997.

Parallax Visions: Making Sense of American–East Asian Relations. Durham, NC: Duke University Press, 1999, paperback 2002.

North Korea: Another Country. New York: New Press, 2004.

Coauthor with Ervand Abrahamian and Moshe Ma'oz. Inventing the Axis of Evil. New York: New Press, 2005.
Selected Articles
"The Political Economy of Chinese Foreign Policy." Modern China (October 1979): 411–461.

"Chinatown: Foreign Policy and Elite Realignment." In The Hidden Election, edited by Thomas Ferguson and Joel Rogers, 196–231. Pantheon Books, 1981.

"Corporatism in North Korea." Journal of Korean Studies 4 (1983): 1–32.

"The Origins and Development of the Northeast Asian Political Economy: Industrial Sectors, Product Cycles, and Political Consequences." International Organization (Winter 1984): 1–40.

"Power and Plenty in Northeast Asia." World Policy Journal (Winter l987-88): 79–106.

"The Abortive Abertura: Korean Democratization in the Light of the Latin American Experience." New Left Review 174 (March-April 1989).

"Illusion, Critique, Responsibility: The Revolution of '89 in West and East." In The Revolution of '89, edited by Daniel Chirot. Seattle: University of Washington Press, 1991.

"The Seventy Years' Crisis and the Logic of a Trilateral 'New World Order'." World Policy Journal (Spring 1991).

"Silent But Deadly: Sexual Subordination in the U.S.-Korean Relationship." In Let the Good Times Roll: Prostitution and the U.S. Military in Asia, edited by Saundra Pollock Sturdevant and Brenda Stoltzfus. New York: New Press, 1992.

"'Revising Postrevisionism': Or, The Poverty of Theory in Diplomatic History." Diplomatic History 17, no. 4 (Fall 1993): 539–70.

"Global Realm With No Limit, Global Realm With No Name." Radical History Review (Fall 1993).

"Japan's Position in the World System." In Postwar Japan as History, edited by in Andrew Gordon, 34–63. Berkeley, University of California Press, 1994.

"Archaeology, Descent, Emergence: Japan in American Hegemony, 1900–1950." In Japan in the World, edited by H.D. Harootunian and Masao Miyoshi. Durham, NC: Duke University Press, 1994.

"The World Shakes China." The National Interest 43 (Spring 1996): 28–41.

"Pikyojôk simin sahoe wa minjujuûi" [Civil Society and Democracy: A Comparative Inquiry]. Ch'angjak kwa Pip'yông [Creation and Criticism] (May 1996)

"Nichibei Senso, Hajimari to Owari" [The U.S.-Japan War, Beginning and End]. In Jinrui wa senso wo Husegeruka [Can Humankind Prevent War?], edited by Kojima Noboru. Tokyo: Bungei Shunju, 1996.

"Time to End the Korean War." Atlantic Monthly (February 1997): 71–79.

"CNN's Cold War." Nation (October 19, 1998): 25–31.

"Still the American Century." British Journal of International Studies (Winter 1999): 271–299.

"The Asian Crisis, Democracy, and the End of 'Late' Development." In The Politics of the Asian Economic Crisis, edited by in T. J. Pempel, 1744. Ithaca, NY: Cornell University Press, 1999.

"Web with No Spider, Spider with No Web: The Geneaology of the Developmental State." In The Developmental State. Edited by Meredith Woo-Cumings. Ithaca, NY: Cornell University Press, 2000.

"Occurrence at Nogun-ri Bridge: An Inquiry into the History and Memory of a Civil War." Critical Asian Studies 33, no. 4 (2001): 509–526.

"Black September, Adolescent Nihilism, and National Security." In Understanding September 11, edited by Craig Calhoun, Paul Price, and Ashley Timmer. New York: New Press, 2002.

"Wrong Again: The U.S. and North Korea." London Review of Books 25, no. 3 (December 2003): 9–12.

"Time of Illusion: Post-Cold War Visions of the World." In Cold War Triumphalism: The Misuse of History After the Fall of Communism, edited by Ellen Schrecker, 71–102. New York: New Press, 2004.