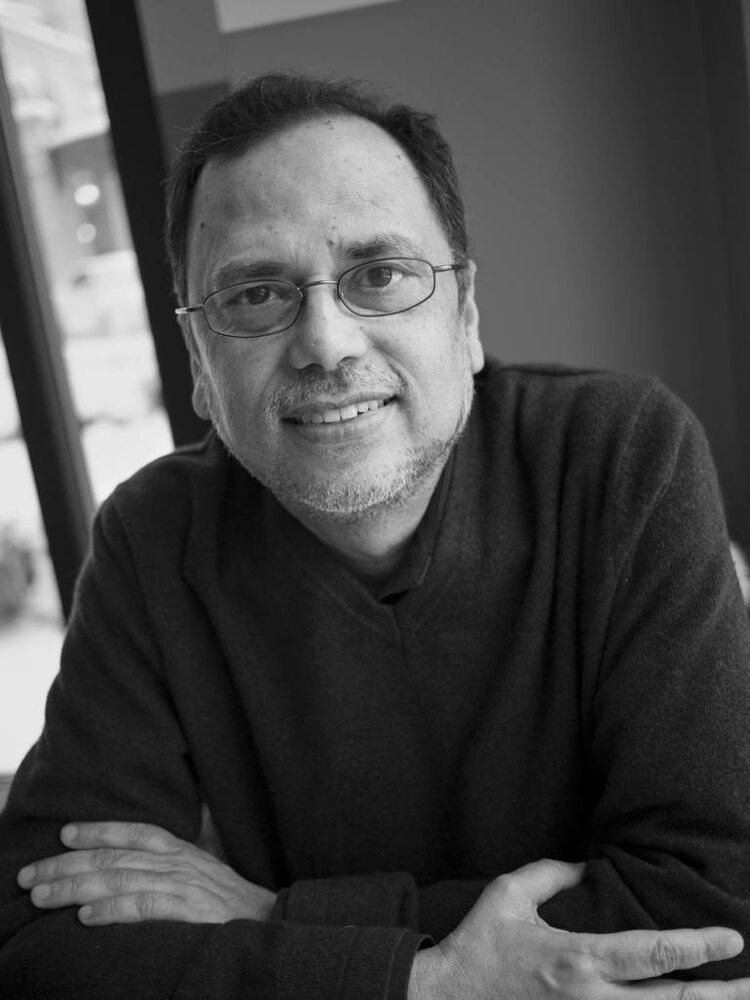 Lawrence A. Kimpton Distinguished Service Professor of History, South Asian Languages and Civilizations, and the College
Affiliated Faculty, Department of English
Resource Faculty, Department of Comparative Literature
Resource Faculty, Department of Cinema and Media Studies
Courtesy Appointment, Law School
Faculty Fellow, Chicago Center for Contemporary Theory
Visiting Distinguished Professor, School of Culture, History, and Language, The Australian National University, Canberra
Australian National University, PhD ' 84
BIOGRAPHY
Dipesh Chakrabarty holds a BSc (physics honors) degree from Presidency College, University of Calcutta, a postgraduate Diploma in management (considered equivalent to MBA) from the Indian Institute of Management, Calcutta, and a PhD (history) from the Australian National University.  He is currently the Lawrence A. Kimpton Distinguished Service Professor in History, South Asian Languages and Civilizations, and the College. He is the Faculty Director of the University of Chicago Center in Delhi, a faculty fellow of the Chicago Center for Contemporary Theory, an associate of the Departments of English, Comparative Literature, and Cinema and Media Studies, and, by courtesy, a faculty member in the Law School.
He is a founding member of the editorial collective of Subaltern Studies, a consulting editor of Critical Inquiry, and a founding editor of Postcolonial Studies. He has also served on the editorial boards of the American Historical Review and Public Culture.
Honors and Awards (Selected)
DLitt. (Honoris Causa), University of London (conferred at Goldsmiths), 2010

Honorary doctorate, University of Antwerp, Belgium, 2011

Honorary doctorate, École Normale Supérieure, 2021

Toynbee Foundation Prize, for contributions to global history, 2014

Tagore Memorial Prize, Government of West Bengal, 2019, for The Crises of Civilization

Jadunath Sarkar Memorial Gold Medal, Asiatic Society of Bengal, Kolkata, 2021

Fellow, American Academy of Arts & Sciences

Honorary Fellow, Australian Academy of the Humanities

Fellow, British Academy
Fellowships and Visiting Professorships (Selected)
Visiting Fellow, Max Planck Institute for Historical Sciences, 2005

American Institute of Indian Studies Senior Fellowship, 2005–6

Honorary Professorial Fellow, School of Historical Studies, University of Melbourne, 2007–2011

Fellow, Wissenschaftskolleg, Berlin, 2008–9

Fellow, Institute of Human Sciences (IWM), Vienna, 2010

Hallsworth Visiting Professor, University of Manchester, 2010

Dean's Distinguished Visitor, College of Asia and Pacific, Australian National University, 2015–2027

Visiting Professor, École Normale Supérieure, Paris, 2019

Visiting Professor, The University of Technology, Sydney, Australia (to present)
Research Supervision
Chakrabarty's current students in History and SALC work on a variety of topics: 20th-century Kerala, prostitution in British India, India-China relations in the 1950s, modern Islam in Bangladeshi history, youth culture in colonial Bengal, the history of modern Bengali music, state-making and representations of royalty in Nepal, the labor history of Bombay, and the energy history of Maharashtra.
Recently completed theses include work on epidemics in the British Empire, the history of the Sino-Indian boundary, the history of the idea of "popular sovereignty" in colonial India, Yunani medicine, the politics of water in Pakistan, India reform societies in nineteenth-century Britain, slavery in south India, environmental consciousness in Hindi literature, the East India Company in the eighteenth century, the Vaishnava movement in nineteenth-century Bengal, the history of the film industry in Bengal, the history of housing in Bombay in the early part of the twentieth century, comparative indigenous histories of Australia, Canada, and New Zealand, the culture-concept in Bengali history, visual aspects of the rebellion of 1857, the making of the Indian constitution, the sixties in Pakistan, low-caste politics in Bengal during the Partition, Assam tea-plantations, missionaries in Orissa, religious thought among Bengali Muslims in the nineteenth and early twentieth centuries, mass politics in Bangladesh, labor in Delhi, the history of the Anglo-Indian communities in India, the history of photo-journalism in Bengal, the evolution of the qazi and mufti in British India, and the intellectual history of Mughal India.
Recent Research / Recent Publications
Books in English
Rethinking Working-Class History: Bengal 1890–1940 (Princeton, 1989; 2000)

Provincializing Europe: Postcolonial Thought and Historical Difference (Princeton, 2000; second edition, 2008) – translated into Italian, Spanish, French, Polish, Turkish, Korean, and Russian

Habitations of Modernity: Essays in the Wake of Subaltern Studies (Chicago, 2002) – translated into Arabic (Kalima, 2011)

The Calling of History: Sir Jadunath Sarkar and His Empire of Truth, c. 1900–1950 (Chicago, 2015)

The Crises of Civilization: Exploring Global and Planetary Histories (Delhi: Oxford, 2018) with Ranajit Dasgupta, Some Aspects of Labour History of Bengal in the Nineteenth Century: Two Views (Delhi: Oxford, 2019) – translated into Bengali

The Climate of History in a Planetary Age (Chicago, 2021; New Delhi: Primus, 2021) – Translated into German, Spanish, and French with Portuguese, Korean, and Chinese translations forthcoming

One Planet, Many Worlds: The Climate Parallax (Brandeis, 2023) – Korean translation forthcoming
Invited Lectures (Recent, Selected)
Lectures in the Human Sciences, Institute for the Human Sciences (IWM), Vienna, 2014

Radhakrishnan Memorial Lectures at All Souls' College, Oxford, 2014

Tanner Lectures in Human Values, Yale, 2015

Mandel lectures in the Humanities, Brandeis, 2017

History and Theory annual lecture, Harvard, 2017

inaugural Halle Lectures in the Humanities, Halle, 2018

William James Lecture, Harvard Divinity School, 2019

Sixth Annual Ikeda Lecture on Peace and Harmony, Singapore Management University, Singapore, 2020

inaugural Contributions to Indian Sociology Lecture, Indian Institute of Economic Growth, Delhi, 2021

Golden Jubilee lecture, Centre for Studies in Social Sciences, Kolkata, 2023

What We Have in Common in this Fragmented World," General Conference, UNESCO, 2023

keynote, European Congress of Theology, Heidelberg, 2024
Edited Books and Journals
with Shahid Amin, Subaltern Studies IX (Delhi: Oxford, 1996)

with Carol Breckenridge, Homi Bhabha, and Sheldon Pollock, Cosmopolitanism (Duke, 2000)

with Rochona Majumdar and Andrew Sartori, From the Colonial to the Postcolonial: India and Pakistan in Transition (Delhi: Oxford, 2007)

with Bain Attwood and Claudio Lomnitz, "The Public Life of History," a special issue of Public Culture (2008)

with Henning Trueper and Sanjay Subrahmanyam, Historical Teleologies in the Modern World (Bloomsbury, 2015)
Books in Bengali
Itihasher janajibon o anyanyo probondho [The Public Life of History and Other Essays] (Kolkata: Ananda, 2011)

Monorather Thikana [Where the Mind Travels], ed. Sanjib Mukhopadhyay (Kolkata: Anustup, 2018) – Shortlisted for the Ananda literary prize in Calcutta in 2019

Bondhur chithi Bondhuke [Letters Between Friends] (Kolkata: Anustup, 2019) – correspondence between Dipesh Chakrabarty and the deceased Bengali writer Raghab Bandyopadhyay, 2003–2016

Smriti, Satta, Songlap [Memories, Identities, and Conversations] (Calcutta: Nirjhor Publications, 2023)
Recent Articles (Selected)
"The Climate History: Four Theses," Critical Inquiry (Winter 2009): 197–222. Translated as "Le Climat de L'Histoire: Quatre Theses." La Revue Internationale 5 (January-February 2010): 22–31. Also carried in Eurozine (October 30, 2009), and translated into German, Spanish, Hungarian, Malayalam, Korean, and Chinese.

"From Civilization to Globalization: The West as a Signifier in Indian Modernity," Inter–Asian Cultural Studies 13, no. 1 (2012). French translation published in La Revue des Libres (January 31, 2012).

"Postcolonial Studies and the Challenge of Climate Change," New Literary History 43, no. 1 (Winter 2012): 1–18.

"Friendships in the Shadow of Empire: Rabindranath Tagore's Reception in Chicago, c. 1913–1932," Modern Asian Studies 48, no. 5 (September 2014): 1161–1187.

"Climate and Capital: On Conjoined Histories," Critical Inquiry (Fall 2014): 1–23.

"The Human Significance of the Anthropocene," in Reset Modernity! ed. Bruno Latour (Cambridge, MA: MIT Press, 2016).

"The Politics of Climate Change Is More Than the Politics of Capitalism," Theory, Culture, & Society 34, nos. 2-3 (March-May 2017): 25–37.

"Between World History and Earth History: Anthropocene Time," History and Theory (March 2018): 5–32.

"The Planet: An Emergent Humanist Category," Critical Inquiry 46, no. 1 (Autumn 2019): 1–31.

"The Human Sciences and Climate Change: A Crisis of Anthropocentrism," Science and Culture 86, nos. 1–2 (January–February, 2020): 46–8.

with Bruno Latour, "Conflicts of Planetary Proportions – A Conversation," Journal of the Philosophy of History 14 (2020): 419-454.

"Planetary Humanities: Straddling the Postcolonial/Decolonial Divide," Daedalus 151, no.3 (Summer 2022): 222-233.
Scholarship on his Work (selected)
Saurabh Dube, Ajay Skaria, and Sanjay Seth, eds., Dipesh Chakrabarty and the Global South: Subaltern Studies, Postcolonial Perspectives, and the Anthropocene (Routledge, 2020)

special issue, Práticas da História, No. 11 (2020), marking the twentieth year since the publication of Provincializing Europe

Ahmed Kamal, ed., Somoyer Kuyashay [In the Mists of TIme] (Dhaka: University Press, 2023)
Recorded Lectures and Panels
"Tagore in Our Times and His" (Inaugural Lecture, The Tagore Program, University of California, Berkeley, February 22, 2020)
"The Planet: An Emergent Matter of Spiritual Concern?" (William James Lecture, Harvard Divinity School, May 1, 2019)
The Fifth Annual Mandel Lectures in the Humanities (Brandeis University, March 13, 14, and 16, 2017)
"Talk on Climate Change and the Humanities" (talk presented at Centre for Policy Research, New Delhi, March 1, 2016)
Tanner Lectures on Human Values (Yale University, February 18–20, 2015)
"Rethinking Working Class: Postcolonial Perspectives on a Revolutionary Concept" (Rosa-Luxemburg-Stiftung, October 29, 2014)
30 Years of Elementary Aspects of Peasant Insurgency in Colonial India, Centre for the Study of Developing Societies, Feb. 13, 2013
The Anthropocene Project: An Opening, Haus der Kulturen der Welt, Berlin, Jan. 10–13, 2013
"The Calling of History: Sir Jadunath Sarkar and the Birth of Historical Research in India" (paper presented at the annual B.N. Ganguli Memorial Lecture series at the Centre for the Study of Developing Societies, Delhi, India, October 30, 2012)