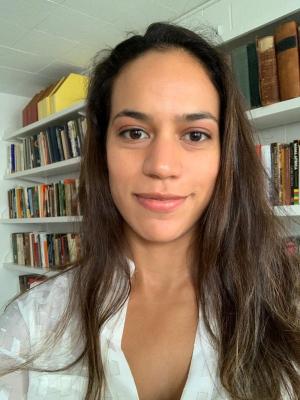 Assistant Professor of History and the College
University of Virginia, PhD '15
BIOGRAPHY
Mary Hicks is a historian of the Black Atlantic, with a focus on transnational histories of race, slavery, capitalism, migration and the making of the early modern world. Her first book, Captive Cosmopolitans: Black Mariners and the World of South Atlantic Slavery, 1721-1835, reimagines the history of Portuguese exploration, colonization and oceanic commerce from the perspective of enslaved and freed black seamen laboring in the transatlantic slave trade. As the Atlantic world's first subaltern cosmopolitans, black mariners, she argues, were integral in forging a unique commercial culture that linked the politics, economies and people of Salvador da Bahia with those of the Bight of Benin.
More broadly, she seeks to interrogate the multiplicity of connections between West Africa and Brazil through the lens of mutual cultural, technological, commercial, intellectual and environmental influences and redefine how historians understand experiences of enslavement and the middle passage. In addition to investigating the lives of African sailors, she also explores the cultural and religious sensibilities of enslaved and freed African women in living in 19th century Salvador da Bahia. Along these lines, her second book will detail the emergence and elaboration of new gendered and racialized subjectivities in the wake of Portugal's initiation of trade with West Africa in the fifteenth century.
Prof. Hicks received her B.A. from the University of Iowa and her Ph.D. from the University of Virginia, where she was a recipient of the Jefferson Fellowship. She has also received the Ford Foundation Dissertation Fellowship and the Mamolen Fellowship at the Hutchins Center at Harvard University. She is the winner of the Southern Historical Association's Latin American & Caribbean Section Dissertation Prize and been a finalist for the CGS/Proquest Distinguished Dissertation Award for the Humanities and Fine Arts.
Recent Research / Recent Publications
Books
Captive Cosmopolitans: Black Mariners and the World of South Atlantic Slavery, 1721-1835 (under contract with Omohundro Institute of Early American History & Culture for The University of North Carolina Press), forthcoming
Articles
"Transatlantic Threads of meaning: West African Textile entrepreneurship in Salvador da Bahia, 1770- 1870," Slavery & Abolition 41:4 (December 2020), 695-722

"Financing the Luso-Atlantic Slave Trade: Collective Investment Practices from Portugal to Brazil, 1500-1840," Journal of Global Slavery 2:3 (2017), 273-309
Book Chapters
"João de Oliveira's Atlantic World: Mobility and Dislocation in Eighteenth-Century Brazil and the Bight of Benin," in The Many Faces of Slavery: New Perspectives on Slave Ownership and Experiences in the Americas Eds. Lawrence Aje and Catherine Armstrong, (London: Bloomsbury Press, 2019)

"Middle Passage," in 400 Souls, Eds. Keisha N. Blain and Ibram X. Kendi (New York: Basic Books, 2021)
Book Reviews
Review of Sharla Fett's Recaptured Africans: Surviving Slave Ships, Detention and Dislocation in the Final Years of the Slave Trade in Black Perspectives (November 16, 2018)

Review of Hazel V. Carby's Imperial Intimacies: A Tale of Two Islands in Black Perspectives (February 5, 2021)
Related Links